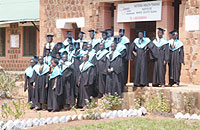 AMREF National Health Training Institute (NHTI)
"The world needs health staff urgently. We cannot improve people's health without appropriate staff capable to offer qualified health assistance".
Margaret Chan – Director-General of World Health Organization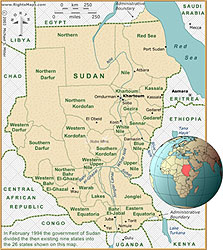 1. ENVIRONMENT OF INTERVENTION
Recently
Southern Sudan
came out of one of the most violent civil wars in African history and Southern Sudanese population can be counted among the poorest in the world. During
22 years of civil war
, many health infrastructures have been ravaged. The destruction of schools, clinical services, streets and social infrastructures is the most visible aspect of the country's social-economic breakdown. As result, human development is virtually arrested, medical services are absent and qualified health personnel is undoubtedly inferior to the number required for delivering basic clinical services to 8 millions of people and to almost 3 millions refuges living in Southern Sudan.
Heath indicators
show that assessments concerning Millennium Goals in Southern Sudan are significantly worse compared to the average of Sub Saharan Africa. With particular reference to goals 1, 4, 5 and 6:
Goal 1: Eradicate extreme poverty and hunger.
Goal: Reduce by half, by the end of 2015, the proportion of people living on less than a dollar a day and of people who suffer from hunger.

Goal 4: Reduce child mortality
Goal: Reduce, by the end of 2015, by two thirds the mortality rate among children under five.

Goal 5: Improve maternal health.
Goal: Reduce, by the end of 2015, by three quarters the maternal mortality ratio

Goal 6: Combat HIV/AIDS, malaria and other diseases.
Goal: Halt, by the end of 2015, and begin to reverse the spread of HIV/AIDS, of malaria and other major diseases.
Social and development indicators (Millennium Goals) concerning Southern Sudan and Sub Saharan Africa

2. TRAINIG MEDICAL ASSISTENTS TO REBUILD THE COUNTRY
The lack of health staff is the main obstacle to the implementation of basic health services:
In the country there are only 39 doctors and 170 clinical officers for a population of nearly 10 millions people. At present, the operating clinical staff is generally esteemed of low level, underrepresented and with an insufficient technical qualification. And the
goals for an improvement of health conditions will never achieved without investing on the training of local staff
. Margaret Chan, Director-General of World Health Organization, recently affirmed that it's impossible improving people's health without a qualified staff capable to offer adequate health assistance. The world, in particular the South of the world needs 4. 300 millions doctors, nurses and clinical officers.
A survey carried out by AMREF and the Department of Health of Southern Sudan Government
"Report on training needs assessment for health human resources development in Southern Sudan"
indicates the training of clinical officers as major priority for the country
. Training of these professional figures, as well as training of tutors and teachers, is included in the strategy for the reconstruction of health system of Southern Sudan, that may defined at present "among the less developed", according to a report drown up jointly by World Bank, United Nation and Southern Sudan Government in 2005.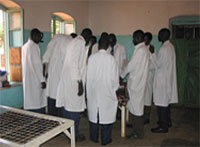 Clinical Officers during trainig courses
Human resources in health sector hold a central role in managing and delivering clinical services.
The proposed action is directed to human resources development in health sector and this is strategic to relieve the sufferings of a population hit by a long civil conflict and to participate to the long-time process of reinstatement and rehabilitation of health system
. The project strengthens local capacity building. The proposed action aims at supporting activities that will improve abilities and skills of Sudanese health labour forces in delivering and managing clinical services, participating in the rebuilding of this sector. The intervention aims at developing and strengthening the effective delivery of clinical services through long-term training activities and development of local human resources. "In some contexts, like Southern Sudan, competences available locally are so scarce that a long time-training becomes absolutely necessary".
3. THE PROJECT: GOALS AND ACTIOVITIES
General goal
of the project is to participate in the rebuilding and rehabilitation of health system in Southern Sudan to promote an enduring improvement of health condition and life quality for the local population. This will be achieved throughs,
specific goals
such as:
1. Training of Clinical Officers
2. Development of infrastructures and human resources (teachers and tutors) of National Health Training Institute (NHTI), Maridi – Clinical Officers Training Institute – run by AMREF.
Direct beneficiaries
of the project are students that will study as Clinical Officers and in general the Southern Sudan system committed to deliver professional training. Indirect beneficiary will be the population of 10 millions people in Southern Sudan that will have access to qualified health services.
1. CLINICAL OFFICERS TRAINING
Clinical officers training
– organised in three academic years – is a combination of theoretical knowledge and practical experience that will enable the
clinical officer to work as physicians in countries with few economic resources, making diagnosis and treatment, surgical operation, communitarian health education. Structure of the Program:
The Program for COs training is organised into three academic years and each year is divided into three periods of four months of twelve weeks each. The degree in Clinical Medicine and Public Health is issued by NHTI to students who successfully completed courses and passed the final examination.
Each year, students will be awarded during a graduation ceremony, attended by Sudanese government authorities, delegates of AMREF and of other NGOs, public personalities. In the following table is reported the complete
structure of the course
.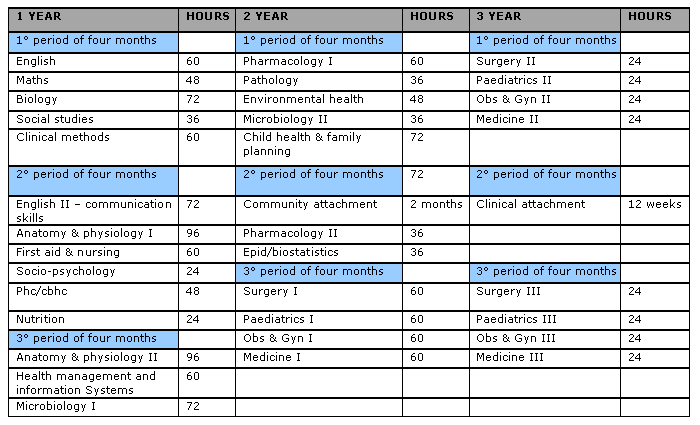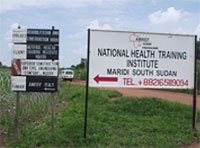 2. MARIDI HEALTH TRAINING INSTITUTE: INFRASTRUCTURES DEVELOPMENT AND HUMAN RESOURCES
Since 1998, AMREF supports
National Health Training Institute (NHTI)
, the only institution in the whole Southern Sudan for clinical officers training. The institute is located in the buildings once occupied by the Institute of Intermediate Education and after a substantial renovation, it is composed of staff offices, administrative block, classrooms, refectory, kitchen, laboratories, library and staff accommodations. NHTI activities began in 1998 and
until present time the Institute graduated 170 clinical officers
. This number represents
80
% of clinical officers working in Southern Sudan.
At present, the school hosts 140 students (among them 25 women: the number of woman is constantly growing up), 7 tutors and support personnel. Students are sponsored by several donors, (AMREF Italy first of all), international NGOs, United Nations (UN) and Bilateral Aid Agencies.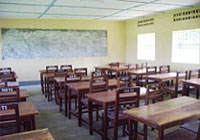 Class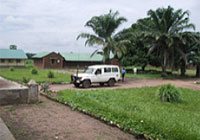 Compound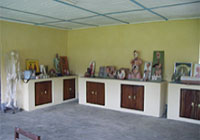 Hall
YEAR 2008
Scheduled activities for this year are:


Training of 40 Clinical Officers. 3.720 euros for each student scholarship


Training of a specialised teacher at the Centre for Educational Development in Health in Arusha , Tanzania, organised by World Health Organisation


Building of a Class


Building of a dorm block


Tesionline/AMREF Agreement
According to these assumptions and to a given deal with AMREF, Tesionline granted, as first step to achieve the mentioned goals, the sum of money to cover the scholarship for a Clinical Officer training in Maridi area, Southern Sudan.
Continues